Milo, My Stray Cat
"We are joined together to the end. Stay with me forever. You are my best friend."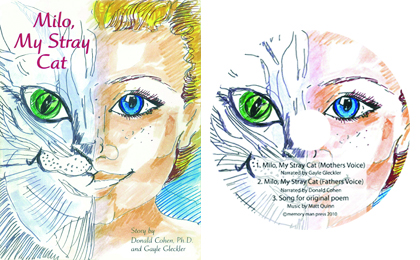 Milo, The Stray Cat, wandered into young Donny's life and changed it forever. The two learn about love and responsibility of a growing relationship by needing and caring for each other. In "Milo, My Stray Cat", the first in a series of Milo books, Donny learns how much he loves Milo, and when he is lost how that love is deepened. Milo returns after Donny has realized that when you love someone, you need to let them be free to discover the world around them and themselves. Then they will stay with you because they want to, not because you own them. In each of the following books, there will be a theme to be experienced and learned through the eyes of Donny and Milo. Each book will deal with emotions and psychological feelings attached to real and important aspects of life. Children will be drawn in by this added richness. Parents will love these books because in addition to being fun and entertaining, they will assist them in teaching their children solid values and ethics.
CD included with the book, features the story read by co-authors Donald Cohen and Gayle Gleckler. In addition, the original poem that inspired the story is set to music. To order for $14.95, please contact author Donald Cohen directly at 203-227-4780 or visit Atlas Books or call 1-800-BOOKLOG. Also available at Barnes and Noble and Amazon. A portion of the proceeds from this book will be donated to the Riedel and Cody Fund, www.cancerpets.org, a Fairfield based non-profit organization whose primary mission is to provide financial support to qualified owners of pets with cancer. Meet the authors of this new children's book and hear the story-behind-the-story of the real Milo, The Stray Cat by clicking on this link to YouTube.
Review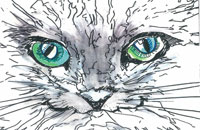 This tender, inspirational children's book, Milo, My Stray Cat creates a sense of wonder between a young boy and his rescued stray cat. It teaches the important concepts of separation and reconnection; a part of growth and development in all children. This touching story with its interesting images and typography can help teach children to read as it helps them learn important lessons in how to love, and be responsible to a pet. Milo, My Stray Cat will help promote a warm bond within the family by showing how caring for a dear pet is similar to caring for each other. And this uniquely illustrated story will rekindle the "spirit of the child" within parents as they read it to their child.
Peter Czuczka, M.D.
Senior Pediatrician
Willows Pediatric Group
Westport, Connecticut
Gathering Seasons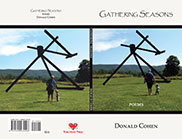 The most recent collection of Donald Cohen's poetry, Gathering Seasons is now available. To order for $14, please contact author Donald Cohen directly at 203-227-4780.