News
Click on News Article to expand/Collapse

November 20, 2010

Milo: A stray cat who's still changing lives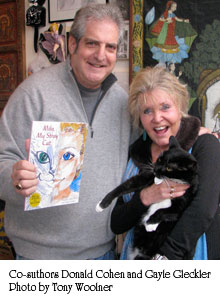 A scruffy gray cat, who worked his magic in many ways, has now achieved a bit of immortality and a chance to continue helping others in a new book.
Milo, My Stray Cat, by Dr. Donald Cohen of Weston and co-author and illustrator Gayle Gleckler of North Salem, N.Y., is a children's book that adults can enjoy. It tells the tale of a friendly feline with a healing touch.
Dr. Cohen is a licensed family therapist with a fellowship in psychiatry from Yale University Medical Center and a Ph.D. in clinical psychology from the California School of Professional Psychology.
His practice, however, is a lot less formal than the degrees would make it sound. Milo the stray cat must have known this on instinct because he chose Dr. Cohen's office as his home.
That in itself was unusual. "All the strays usually go to my neighbor — she works for a vet," Dr. Cohen said. For two weeks, Milo appeared at his office window. "And it wasn't because I fed him," said Dr. Cohen. "He just showed up." Gradually, Milo made his way into the office and the Cohens' lives. "When he first arrived he was skin and bones, and covered with boils. My wife wasn't thrilled," Dr. Cohen said. But Milo soon changed his life and would change others', too.
Enter Gayle Gleckler — a savvy advertising executive with a stellar career at Young & Rubicam, and Foote Cone & Belding, where she created the "I'm Gonna Wash That Gray Right Outta My Hair" campaign for Clairol. She also founded the award-winning agency Gleckler & Partners and grew it to a multimillion-dollar firm. A talented writer, she co-wrote and produced The Lords of Flatbush, Sly Stallone's first feature film.
But like other newly single moms, Ms. Gleckler had her work cut out for her when she moved from New York City with her adopted son, Zac, to the comparative wilds of upper Westchester and then Connecticut. Then she learned Zac was dyslexic.
When she found a school in the area specializing in dyslexia, the situation improved. But as Zac grew, she had to decide whether to mainstream him. She moved him to Westport in seventh grade, but the friendships there had long been formed among well-traveled kids already prepared for college. "Then in high school, Zac suddenly became very popular," Ms. Gleckler said. "He was funny and good-looking. But there was still a big disconnect; it was a problem. Then a friend said, 'You've got to see Don Cohen.'"
Ms. Gleckler and Zac arrived at the office to find a space jammed with memorabilia and walls plastered with posters of rock stars and sports figures. "It looked more like a kids' museum than a doctor's office," Ms. Gleckler said. Still, they were anxious. Until Milo. "He was already there, sitting among the toys. He really helped with the therapy. He was so there. So with us."
On one wall she noticed the poem "My Stray Cat," by Dr. Cohen. "He said he always wanted to turn it into a children's book. I said I would love to co-create it." She turned the poem into kids' language and a story where Dr. Cohen became a six-year-old boy who had Milo come to his window and into his life.
Besides telling an engaging tale, the book could break new ground. Since Zac is dyslexic, Ms. Gleckler often read children's books to him, teaching him to read at the same time.
"It gave me an idea. Why not create typography to help children read? So the word 'fluffy' is fluffy, and the word 'falling' has letters cascading as if they are falling." Her theory is that if the meaning of a word is conveyed through typography, children will learn to read faster.
Ms. Gleckler's idea and creative rendering prompted Dr. Cohen not to go the traditional publishing route. "Usually publishers want to choose the illustrator, but I had a loyalty to Gayle's illustration."
The book, which comes with a CD where the story is read by Dr. Cohen and by Ms. Gleckler, has yet another dimension — the concept of adoption.
"We all feel lost at times and want to be adopted," Ms. Gleckler said. "This book teaches children the gift of adopting lost animals. It also encourages the care of others. Milo was adopted, our other cats were adopted, and I'm adopted, too. So I suggested to Don that this book would be a fun, gentle way for families to begin the conversation about the adoption of another child. Open the dialogue."
Milo has since passed on, but his legacy still lives in Milo, My Stray Cat, available at Books on the Common, 404 Main Street, Ridgefield; Age of Reason, 21 Post Road, Westport; Earth Animal pet store, 606 Post Road East, Westport; and Barnes and Noble, 1076 Post Road East,Westport. Dr. Cohen will be at The New Wave Gallery at 920 Whalley Avenue in New Haven for a book signing on Saturday, Dec. 4 from 1 to 4 p.m.
A portion of proceeds from the book will be donated to animal hospitals.

May 28, 2009

Donald Cohen takes a poetic journey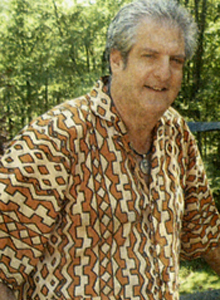 Donald Cohen has long been a collector of memories. With his new book - a three-volume poetry anthology - he is sharing those memories with the world.The Weston family therapist will be reading and signing copies of his book, Memory Man, on Sunday, May 31, 4 to 8 p.m. at Effie's, 719 Post Road East in Westport.

For Dr. Cohen, who is the producer and lyricist for local band The Give, Memory Man is a confluence of his many passions: art, music and words.The more than 170 poems in the collection were written over a 10-year period from January 1997 to October 2007. The poems are presented chronologically, and are interspersed in the soft-cover volumes with about 120 black and white photographs, taken by Amy Peck, of Dr. Cohens extensive art and memorabilia collection.

An understatement

Actually, "extensive" is an understatement. Dr. Cohens Weston home - which is also where his private practice is located - is both filled with and surrounded by hundreds of large pieces (murals, paintings, sculptures, carvings, and other creations) and literally thousands of smaller pieces (figurines, chachkas, toys, posters, and other novelties). One is constantly discovering new things to see and comment upon at Dr. Cohens house. There are totem poles and life-sized metal sculptures of the Beatles and Jimi Hendrix in the yard; a wild west scene under the deck and life-sized sculptures of the Blues Brothers on top of it; working miniature carousels, neon signs, and a jukebox in the kitchen; an entire room devoted to baseball images and items; six-foot square sketches done by his son; montages and collages, mosaics and tapestries and stained glass.

The walls of his office and its waiting room - even the bathroom-are covered from floor to ceiling with items and pictures Dr. Cohen has collected over the past 30 years. And every item sparks a memory-not just for Dr. Cohen, who can talk about the where's and when's and who's of just about everything in the place, but also for the observer.

When a piece "speaks" to Dr. Cohen, he buys it because it tells the story of where he was at a particular moment in time, both internally and literally. When others look at something in his collection, they are often reminded of certain times and places in their own lives, he said.
His art collection prompted a friend, Mary Feakins, to write a poem for Dr. Cohen, in which she dubs him The Memory Man. It was this poem that first inspired Dr. Cohen to start writing poetry of his own, he said. He has never trained formally, but he found that once he started writing, he couldn't stop. Many of the poems became lyrics to songs performed by a local band The Give, which includes John Saxon, Sarah Peterson, Jeff Owens, and Dan Berg. An acoustic and a live CD are available on iTunes.

Connected

In collecting his poems, Dr. Cohen realized they were inextricably connected to his art collection. Together, they tell a story, Dr. Cohen said, and, like the artwork he collects, the poems have a way of sparking memories in the reader.
"My art collection is part of the journey reflected in the poetry," he said. "It was a challenge to match the images [the photographer took of his artwork] with the poems It made me revisit all the memories and meanings behind both the images and the words."
But matching the words and pictures ultimately made the story a more full one, Dr. Cohen said. "Whats interesting for me is I think this all happened together through the years. The poetry and the [art] collection happened with synchronicity."
Dr. Cohen describes Memory Man as "a story about a psychotherapist who has taken many journeys with other souls and ultimately with himself...Its both personal and universal, and its really a documentary," he said.
Splitting the poetry collection into three volumes began as a way to make it "more practical for people to carry it around," Dr. Cohen said, but "then, as I began to see where it would divide, it made sense as a journey, too."
Book one is Dr. Cohens earliest work, and reflects simpler and more innocent themes, he said. The second volume begins with the poem "Resurrection," and the third with "Wisdom."
"I kind of like the simpleness of the earlier work, and then I like how you can see the poetry evolve," Dr. Cohen said. "It all fits and tells a story."
Dr. Cohen hopes the combination of personal and universal themes will appeal to the reader. "I hope to trigger memories for others," he said. "The joy for me is in making the connections. Its fun to share the journey. I think [the poetry can] generate conversation and inspires [readers] to think of their own experiences, and not take life for granted."
Dr. Cohen lives in Weston with his wife of 36 years, Dee. The couple has two children, Jared, 27, and Emily, 30. He is co-author, with his father, of My Father, My Son, a book that chronicles their relationship through letters. He also wrote a childrens book, Milo, My Stray Cat, due out in June.